There is no denying that the Indian Premier League has significantly altered the game of cricket. Since the IPL's start, it has produced numerous superstars who have dazzled the world. It is considered the best cricket league in the world and is currently ranked among the top sports leagues in the world because of this. We have witnessed many spectacular performances from players and teams throughout the course of the league's 15 seasons.
The IPL boasts the top players in the world, which is one of the reasons why it is the best. But each team competing wants a strong group of hitters and bowlers. Since a strong batting lineup might help them get off to a good start in the game. It relies on the hitters, and you can put pressure on the opposition by helping your team score as many runs as possible.
We shall thus examine circumstances in which a team scores more runs than normal without losing any wickets in this article.
Top Highest Run-Chases Without Losing A Wicket In IPL
1. Lucknow Super Giants 210/0 runs (2022)
The 2022 season saw the highest opening wicket partnership. The game between Kolkata Knight Riders and Lucknow Super Giants was the 66th in the competition. This had a suspenseful conclusion. LSG chose to bat first after winning the toss. KL Rahul and Quinton de Kock, the two openers, both played methodically before picking up the tempo. Rahul, the captain, was the second fiddle. De Kock, on the other hand, was at the top of his game.
The left-hander scored 140*68 runs off just 70 balls, including 10 fours and 10 sixes, to set a new IPL record for the greatest score by a wicket-keeper. Also holding on for 68* from 51 balls was Rahul. In their 20 overs, LSG scored 210 runs. But in response, KKR also played excellent batting to come very near to the target. In fact, with some effective death bowling, they actually had the match in hand at one point—preventing KKR from triumphing. In the end, they fell short by only 2 runs.
2. Kolkata Knight Riders184/0 runs (2017)
In a 2017 IPL game between Gujarat Lions and Kolkata Knight Riders, the second-highest score was recorded. KKR won the toss and decided to bowl first in the third game of the season at Rajkot. Gujarat got going slowly but quickly in the middle. Dinesh Karthik scored 47 runs off 25 balls, and captain Suresh Raina blasted an undefeated 68* from 51 balls. Gujarat Lions made 183/4 in their allotted 20 overs as a result.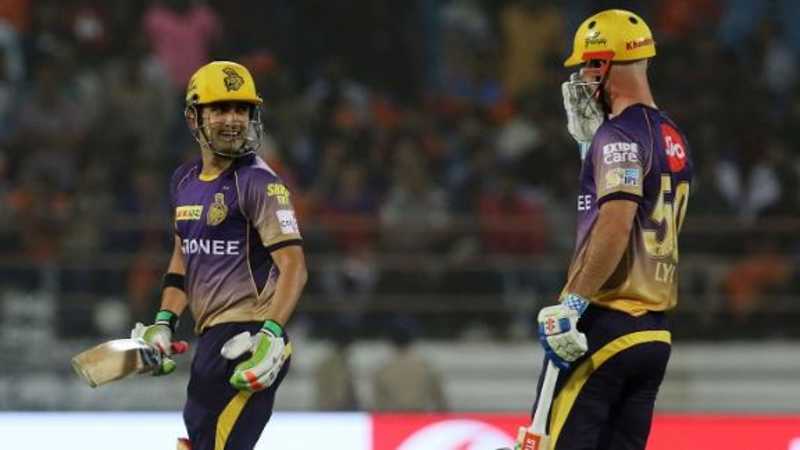 It appeared that KKR would have a challenging challenge on its hands because the total was one that would be impossible to defend. But the KKR openers had a different idea in mind. Chris Lynn started the pursuit, which continued until the winner was reached. In order to achieve all the runs without losing any wickets, Lynn and Gautam Gambhir smacked bowlers to all parts of the ground. KKR scored 184 runs while chasing the markdown in just 14.5 overs. With the help of six fours and eight sixes, Lynn scored 93 off just 41 balls. At 76* off 48 balls, Gambhir was still alive.
3. Chennai Super Kings 181/0 runs (2020)
The IPL 2020 season's 18th game took place in Dubai between Chennai Super Kings and Kings XI Punjab (now Punjab Kings). Punjab chooses to bat first after winning the toss. They got off to a great start, with half a century from captain KL Rahul. Punjab reached 178/4 in their 20 overs with the assistance of a few more hitters.
Although it was a good target, what followed was absolute domination. In the opening innings, both CSK players attacked the bowlers and scored runs at will. Together, Shane Watson and Faf Du Plessis scored 181 runs in 17.4 overs to successfully chase down the goal. The game was won by CSK without any wickets being lost. Du Plessis made 87 runs, while Watson scored 83 runs. To secure the win for their respective sides, both openers remained unblemished.
Top 5 Highest Run-Chases Without Losing A Wicket In IPL
| Players | Runs | Team | Against | Ground | Date |
| --- | --- | --- | --- | --- | --- |
| Quinton De Kock and KL Rahul | 210 | Lucknow Super Giants | Kolkata Knight Riders | Mumbai | 18-05-2022 |
| Gautam Gambhir and Chris Lynn | 184 | Kolkata Knight Riders | Gujarat Lions | Rajkot | 07-04-2017 |
| Shane Watson and Faf du Plessis | 181 | Chennai Super Kings | Kings XI Punjab | Dubai | 04-10-2020 |
| Virat Kohli and Devdutt Padikkal | 181 | Royal Challengers Bangalore | Rajasthan Royals | Mumbai | 22-04-2021 |
| Sachin Tendulkar and Dwayne Smith | 163 | Mumbai Indians | Rajasthan Royals | Jaipur | 20-05-2012 |
FAQS
What is the highest run chase in t20 without losing a wicket?
At Karachi in September 2022, Pakistan defeated England by scoring 203 without losing a wicket.
They attempt to reach the highest IPL objective of 224 runs. Breaking the record for the highest run chase in IPL history took 12 years.
Which team has the highest chase in IPL?
With a score of 248-5 against GL, RCB also sets the second record. CSK beat RR by a record-breaking 246-5. The Royals' 2020 run chase, which had a target of 224, was the most successful in league history.
Which team has the highest number of successful chases in IPL history?
In IPL history, Rajasthan Royals has had the best run-chase performance.
Who is the No 1 finisher in IPL?
Dhoni has earned a reputation as the IPL's best finisher.