A minimum of 10-overs-a-side is required to constitute a game; if a match begins on Sunday and is then stopped, it will resume on Monday rather than be restarted. Two hours have been added to Monday's reserve day as organizers prepare for rain in the T20 World Cup final between England and Pakistan in Melbourne.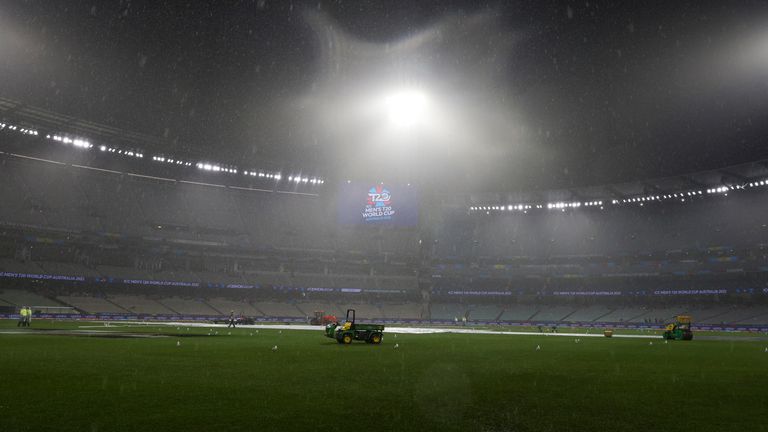 The final between England and Pakistan this weekend in Melbourne could be ruined by rain for the first time in the history of the T20 World Cup.
After decimating India by 10 wickets in Thursday's semi-final in Adelaide, England is seeking to win the event for the first time since 2010. Pakistan, meanwhile, is aiming to duplicate its 2009 triumph after defeating New Zealand by seven wickets in their last-four match in Sydney the day before.
Bad Weather
If the bad weather prevents at least a 10-over-a-side game from being played on Sunday or Monday's reserve day, though, both teams might still raise the trophy.
Currently, there is a 95% likelihood that it will rain between 15 and 25 mm on Sunday and between 5 and 10 mm on Monday.
With seven hours and ten minutes now available on Monday, the organizers have increased the playing time on the reserve day by two hours should it be needed.
The play will begin at 4 a.m. UK time if the reserve day is required, though the gloomy weather expected for Monday increases the likelihood of joint winners.
Ireland's victory over England at the site was impacted by rain, which has previously wiped out three matches at the Melbourne Cricket Ground in this tournament: England vs. Australia, Afghanistan vs. New Zealand, and Afghanistan vs. Ireland.
Marvel Stadium in the Docklands neighborhood in Melbourne has a roof, but the International Cricket Council has no intention of moving the match there.
Additionally, according to the terms of the tournament, "every effort" will be made to finish the final on Sunday, even if that means cutting it short.
In the group stages, a match required a minimum of five overs per side, but that number increased to 10 for the knockout stages.
Alex Hales, the opening batsman for England, said of his team's victory over India: "I've got one eye on [the forecast] and it looks like an inch of rain, but you never know." Hales smashed an unbeaten 86 off 47 balls. Crossing our fingers.
Nasser Hussain
Nasser Hussain, a cricket analyst for Sky Sports Cricket and a former captain of England, said: "I think five overs would make it completely and completely a lottery – 10 overs is a bit more sensible.
"Whoever is pursuing needs to be a little more alert. England could have changed their batting lineup to face Ireland, but they chose not to, and when it started to rain, they lost.
It's time to turn on for the evening. A World Cup final loss on the net run rate is not acceptable.
On Sunday, Sky Sports Cricket will broadcast the T20 World Cup final between England and Pakistan live. In preparation for an 8 a.m. start at the Melbourne Cricket Ground, preparation begins at 7 a.m.